Musician and composer who plays traditional mediterranean instruments (bouzuki, oud, tzouras), acoustic, classic and electric guitars, piano, percussion, sampler, programming.

He is the founder and band leader of Novalia and the Banda Ikona. He is also the musical director of three international ensemble: 7 Sóis Orkestra e Les Voix du 7 Sóis , Med Arab Jewish 7 Sois Orkestra.

In March 2021 he released the new CD with Banda Ikona called "Mediterraneo Ostinato" (Finisterre). This work is a manifesto of a possible new "Mediterranean Power" in the name of a past comprised of art, culture, open ports, encounters and exchanges that, like a great, intertwined network has created new paths, stories and a common Mediterranean soul. The album is sung in Sabir, the ancient language of the Mediterranean forgotten by history and revived in Stefano Saletti's original compositions, which also draw on the great legacy of Mediterranean literature, from Calvino to Pasolini, from Matvejevic to Machado and Kavafis, from Cecco Angiolieri to Rilke to the Kurdish poet Abdulla Goran. Twelve songs narrate the stories and the passions of a sea that unites rather than dividing, that fosters dialogue between peoples with different traditions who have always known how to live together and coexist. In April 2016 he released the CD with Banda Ikona called "Soundcity - Sounds from Border Towns" (Finisterre). In this work Saletti started from the recordings that, in the past few years, he had made around the Mediterranean in many border cities: Lampedusa, Istanbul, Tangier, Lisbon, Jaffa, Sarajevo, Ventotene... Sounds, noises, radios, voices, sound spaces, buskers have all inspired his melodies, lyrics and rhythms. As always in his compositions he uses Sabir, the language of the sea, together with Turkish, Arabic, French, Spanish, Portuguese, Neapolitan, Swahili, Romanian and Macedonian to describe the richness, the hopes and the pain that inhabits the "streets" of the Mediterranean.

The Sabir was a lingua franca used by sailors, pirates, fishermen, merchants and ship-owners in Mediterranean ports to communicate with one another: from Genoa to Tangiers, from Salonika to Istanbul, from Marseilles to Algiers, from Valencia to Palermo, until the early decades of the twentieth century this form of sea-faring "Esperanto" developed little by little availing of terms from Spanish, Italian, French and Arabic.

In 2015 for Materiali Sonori he released the cd "Caracas" with Valerio Corzani, the soundtrack cd "In Search of Homerus and the cd "Cafè Loti" with Nando Citarella and Pejman Tadayon.

In May 2012 he released the CD with Piccola Banda Ikona called "Folkpolitik" (Top ten on the World Music Charts Europe). The CD contains original compositions together with rearrangements of songs by Mediterranean authors who have spoken in music of the struggle against power, suffering persecution, arrests and violence. "Folkpolitik" is a journey back in time to rediscover different types of music that tell stories of the suffering and passion of the Mediterranean people. From the expulsion of the Sephardic Jews from Spain to the Palestinian Diaspora, from the Sardinian anthem (fruit of the French Revolution against the excessive power of the barons) to the authors of often very sweet music and ballads, subjected to persecution, arrest and violence by the political powers that be.

In February 2010 Stefano Saletti will release "Oriental Night Fever" his new record carried out with the French-Algerian musician and producer Hector Zazou and the italian singer Barbara Eramo. The project is a reinterpretation of some classics of Disco music of the 70s, combining electronic instruments with traditional Mediterranean and Eastern Europe in a truly fascinating mix, able to reinvent and rediscover the strength of Disco music. The included songs are: "I Feel Love" by Donna Summer, "Y.M.C.A." Village People, "Night Fever" and "Stayin' Alive" by the Bee Gees, "You Make Me Feel" by Sylvester, the Trammps "Disco Inferno", "I Will Survive" by Gloria Gaynor, Blondie "Heart of Glass", Chic "I Want Your Love", "Ring My Bell" by Anita Ward.
The project comes exclusive worldwide on iTunes February 2, 2010 and will be in stores from 14 February 2010.

In Genuary 2008 he released a new cd with Piccola Banda Ikona called "Marea cu sarea" written in Sabir an old language of Mediterranean sea.

He is also the director of 7 Sóis Orkestra, a Mediterranean orchestra that brings together musicians from different countries: the fado singer Margarida Guerreiro (Portugal), the violinist Jamal Ouassini (Maroc), the windinstruments player Eyal Sela (Israel), the flamengo guitarist Miguel Angel Ramos (Andalusia), the bass player Mario Rivera (Sicily), the percussionist Massimo Cusato (Calabria).
The band has recently recordered the live CD "A night in Sicily".

In 2003 he made his first recording as soloist called "Le Vespe", soundtrack to the play of the same name by Aristophanes.

In 2005 he composed and recorded "Stari Most" with the Piccola Banda Ikona for the italian label CNI, Compagnia Nuove Indye.

As a composer he has also worked on film soundtracks, dance, theatre, poetry and television.

For the theatre he has worked with: Giancarlo Giannini (link at the web site), Pamela Villoresi, Omero Antonutti, Massimo Popolizio, Manuela Mandracchia, Maurizio Panici, Piero Maccarinelli, Predrag Matvejevic, Marco Delogu, Renato Giordano.

He composed the soundtrack for the film "Sotto la Luna" by Franco Bernini (Rai 2).

He is the composer of the song "Ebla" the theme tune for the international tv program "Mediterraneo".

He also composed a suite in five movements based on "Le bateau Ivre" by Arthur Rimbaud, read by Jean-Louis Trintignant and he worked on the making of "Coppi Arrive", a ballet represented at "Museum of Contemporary Art of Prato, Florence.

He also wrote music performed with the Tunisian poet Monchef Ghachem.

During the '80 & '90 he played with Alexander Balanescu, Kahwa, Ganoub, Badu N'Dyaie, Rashmi V. Bhatt,Nour-Eddine, Giampiero e Arlo Bigazzi, Materiali Sonori University, Antonello Ricci, Arnaldo Vacca, Arturo Stalteri, Gabriele Russo, Marcello Vento, Abraham Afewerki, Saleh Tawil, Cudù, Paolo Lotti, Engel Der Vernichtung e Federico Festuccia, Brothers, Paolo Modugno, Alessandro Cercato, Marco Rosano.

He has toured in different countries including Spain, Portugal, France, Hungary, Sweden, Greece, Egypt, Yugoslavia, Bosnia-Erzegovina, Germany.

In conjunction with the "Associazione Griot" and Materiali Sonori he organized many ethnic and avantgarde music events, with Jan Garbarek, Michael Nyman band, Wim Mertens, Third Ear Band, Tuxedomoon, The Residens, Steven Brown e Blaine Reininger, Daniel Schell, Micrologus, Klezroym, Saleh Tawil, Nour-Eddine, Archedora, Paramashivam Pilai.

He has also studied and researched traditional Italian music and twentieth century avantgarde music.

Between 1990 and 2001 he directed the magazine of Art, music, sound & words, Sonora, edited by Materiali Sonori, and "Cous Cous", edited by CNI.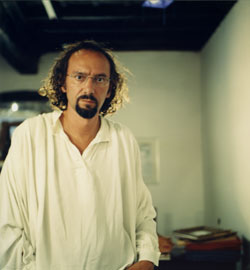 DISCOGRAPHY:

Stefano Saletti & Banda Ikona "Soundcity" 2016

Cafè Loti - Citarella, Saletti, Tadayon "Cafè Loti" 2015

Stefano Saletti "In Search of Homerus" 2015

Stefano Saletti & Valerio Corzani "Caracas" 2015

Stefano Saletti & Piccola Banda Ikona "Folkpolitik" 2012

ZAZOU/ERAMO/SALETTI "Oriental Night Fever" 2010

7 Sois Orkestra "A Night in Sicily" 2008

Piccola Banda Ikona "Marea cu sarea" 2008

Stefano Saletti - Piccola Banda Ikona "Stari Most" 2005

Stefano Saletti - Renato Giordano "Le vespe" 2003


Novalia:

10... anni in una notte 2000
Arkeo 1999
Canti e Briganti 1997
Griot 1995
Sabir 1990
L'Australiano 1988
Corteo 1986


As guest:

Engel Der Vernichtung "L'amor fou"
Bigazzi, Sangalli, Saletti e Cudù "Vivo"
Arturo Stalteri "Syriarise"
Materiali Sonory University "Il grande airone ha chiuso le ali"
Sonora "J'écris"con Monchef Ghachem
Orione "Le Bateau Ivre" con Jean Louis Trintignant
Brothers "Walkin' in the Desert of Dreams"
Giovanni Lo Cascio-Elvira Impagnatiello "Gli angeli di Borsellino"
Mario Rivera O.S.T.
Alessandro Benvenuti e AA.VV. Decidilo tu


Contacts: STEFANO SALETTI - e-mail: stefanosaletti@gmail.com