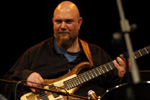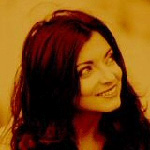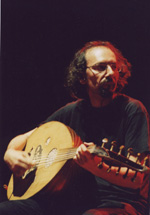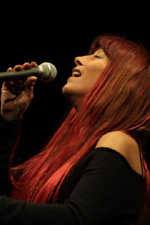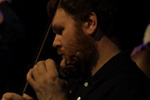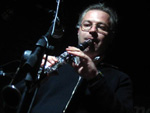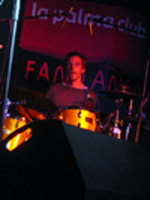 "...writers, musicians, and singers with this much talent, sympathy and vision, it can be pure magic".
Ian Anderson - Folk Roots


A fascinating journey between the sounds and cultures of the Mediterranean sea in the research for a musical and lyrical language that unites its various populations.

This is the idea behind Stefano Saletti (founder and leader of Novalia) and the Piccola Banda Ikona, a newly formed group that brings together some of most important musicians of italian world music like Mario Rivera (Agricantus), Barbara Eramo, Ramya (Nuklearte), Leo Cesari (Klezroym), Carlo Cossu (Nando Citarella, Acustimantico), Gabriele Coen (Klezroym), Desiré Infascelli.

They published a new Cd called "Marea cu sarea" written in Sabir (that means "to know"), an ancient Mediterranean language who joints terms from Arabic, Italian, French and Spanish words, issued for Finisterre .

They write on the cd: "Once upon a time there was a tongue shared by the peoples of the Mediterranean. This was Sabir, a lingua franca which sailors, pirates, fishermen, merchants, ship-owners used in the ports to communicate with each other. From Genoa to Tangiers, from Salonika to Istanbul, from Marseilles to Algiers, from Valencia to Palermo, until the early decades of the twentieth century this kind of sea-faring "Esperanto" developed little by little availing of terms from Spanish, Italian, French and Arabic. We like this language. We like to mix sounds and words. We play Sabir.We sing Sabir".
See live pictures of Piccola Banda Ikona
Listen to some tracks from "Stari Most"
They first cd - published on 2005 - is entitled "Stari Most", after the historical bridge in Mostar (Bosnia) that was bombed in 1993 and which has always represented a symbol of the meeting and passage between East and West. The bridge was destroyed by those who wished to increase the inter-ethnic and religious fighting, rather than to contribute to the development of an authentic culture of dialogue and peace. The music and the texts of Stari Most make it a concept-album, focused on the theme of the meeting of different worlds who must begin once again to speak to one another, at all levels.

"Tagama", from the album "Stari Most" by Stefano Saletti & Piccola Banda Ikona has been included on Buddha Bar vol. VIII, the prestigious compilation by the French label George V, and on Buddha Bar Ten Years released on October 20, 2006.
Tagama has been included also on the Folk Roots Cd (Aug/sept 2006 nos. 278/279), the famous English world music magazine.
This is just the latest among the many successes of Stari Most, an album which has already been listed as one of the best releases of 2005 by the World Music Charts Europe, the official listing of European World Music. The album has been number 4 in the Folk Roots chart on January 2006.
Prestigious recognition for the international sounds of Stari Most and the music of the Piccola Banda Ikona, a group that brings together some of the brightest stars in Italian ethnic and world music.

Stari Most is an homage to the Mediterranean, to its contradictions, its fascinating thousand year history and its different cultures. Many parts of this work were inspired by Predrag Matvejevic, the Croatian writer and intellectual, who wrote: "There does not exist a Mediterranean culture; but many different cultures that lie in the bosom of one Mediterranean".

The eleven songs contain the sounds of musical instruments like the Greek bouzouki, the Arabian oud and the darbouka together with more traditional Western ones. The texts range from Sicilian dialect to Hebrew, from Serbo-Croatian to Arabian, French and Lingala (the African language brought to Europe by numerous immigrants) as well as the ancient Greek language used by Saletti, in collaboration with Renato Giordano, for the soundtrack to Aristophanes' "Le Vespe".

The musical path of the Piccola Banda Ikona thus becomes a fascinating journey between the sounds and cultures of the Mediterranean, mixed with the atmospheres of the popular traditions of Southern Italy and Balkan, Greek and Sephardic melodies. A journey in search of a musical and lyrical language that goes beyond folkloristic stereotypes, though which is characterised by its reworking of popular music.

On the 2005 The Piccola Banda Ikona performed live the show "Il dolce canto degli dei" with Giancarlo Giannini.

Before they performed live during the presentation of Aristophanes' "Le Vespe", under the direction of Renato Giordano, in occasion of 39th season of performances in the Greek Theatre in Syracuse.

"Stari Most" and "Le Vespe" were edited by Cni – Compagnia Nuove Indye and published on compact disc.

Piccola Banda Ikona:

Stefano Saletti: bouzuki, oud, guitar, piano, loop, electronics
Barbara Eramo: voice, piano
Ramya: voice
Mario Rivera: bass, loop, electronics
Leo Cesari: drums, percussions
Carlo Cossu: violin
Gabriele Coen: clarinet
Desirè Infascelli: fisarmonica

With
Anadi "Hagi" Mishra: percussions
Giuliana De Donno: harp
Amer Ben Abdel Nyoumen: darbouka

Mail to: STEFANO SALETTI - info@stefanosaletti.it